Emergency!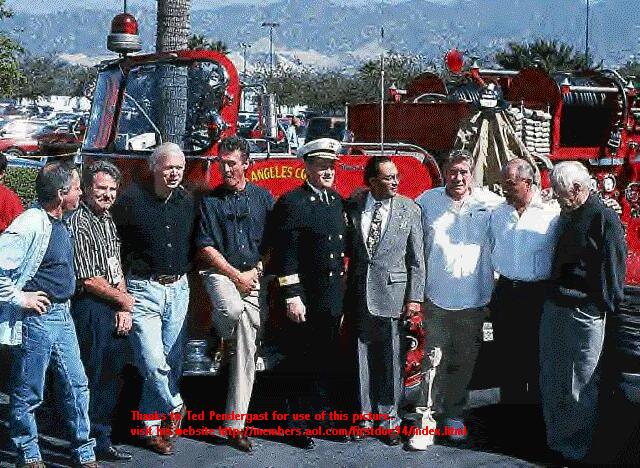 LtoR-Dennis Donnelly, Tim Donnelly, Kevin Tighe, Randy Mantooth, Chief Michael Freeman, Ron Pinkard, Robert Fuller, Marco Lopez and the late Bobby Troup.

Cast
Jack Webb-Executive Creator
R.A. Cinader-Executive Producer
Dennis Donnelly-Director and Tim's brother
Randy Mantooth as FF/PM John Gage
Kevin Tighe as FF/PM Roy DeSoto
Mike Stoker as FF Mike Stoker
Mike Norrell as Capt. Hank Stanley
Dick Hammer as Capt. Dick Hammer
Marco Lopez as FF Marco Lopez
Tim Donnelly as FF Chet Kelly
Robert Fuller as Dr. Kelly Brackett MD/FASC
Bobby Troupe as Dr. Joe Early MD/FASC
Ron Pinkard as Dr. Mike Morton MD
Julie London as Dixie McCall RN
Vince Howard as Officer Vince

Equipment
Rescue Squad 51 - 1972 Dodge D300 with customized body.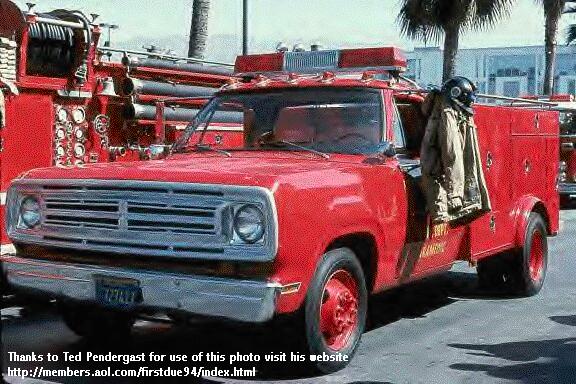 Engine 51(first 2 seasons) - 1969 Crown Firecoach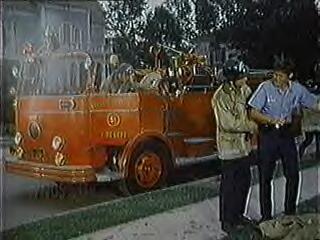 Engine 51(1974-77) - 1974 Ward-La France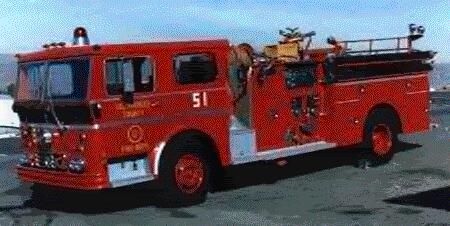 other equipment used included:
1969/70 Dodge D300 with customized body (Squad 10 in pilot)
Seagrave Engine circa 1940's (in pilot)
American LaFrance Engines, Ladder Trucks and Aerial Platforms circa 1960's & 70's
Crown Firecoach Engines, Ladder Trucks and Aerial Platforms circa 1960's
General Pacific Pumper circa 1940's (in pilot)
International Pumpers circa 1950's (in pilot)
FWD-Calavar all-wheel drive brush rigs circa 1950's (in pilot)
1937 Dennis Pumper (in episode entitled "Old Engine")
a 1972 Plymouth and an AMC Ambassador were used as Battalion 14 chief cars
Cadillac, Chevrolet and Ford ambulances
2 different fire boats both were Fireboat 110
a couple of different helicopters 14 and 16
a caterpillar bulldozer (in episode entitled "Snakebite")

Buildings
LACoFD Station 127 as Station 51

UCLA Harbor Medical Center as Rampart Emergency Hospital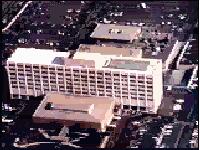 LACoFD Headquarters as LACoFD Headquarters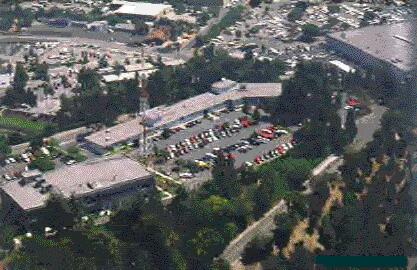 LACoFD Station 8 as Station 10, and in later episodes was used as Station 8
LACoFD Station 110 as Station 110




Code Red
Cast
Lorne Greene .... Battalion Chief Joe Rorchek
Julie Adams .... Ann Rorchek
Andrew Stevens .... Ted Rorchek
Sam J. Jones .... Chris Rorchek
Martina Deignan .... Haley Green
Adam Rich .... Danny Blake
Joe Maross .... Capt. Mike Benton
James Crittenden .... Rags Harris
Dennis Haysbert .... "Stuff" Wade
Jack Lindine .... Al Martelli

Equipment
Pumper1"P1"- was a 1981 Emergency One Engine
Wagon1"W1"- Was a Crown 50ft. Snorkle

Buildings
Station 1- was LAFD Station 49












L.A Firefighters
Cast
Jarrod Emick as Capt. Jack Molloy
Christine Elise as FF Erin Coffey
Carlton Wilborn as FF Ray Grimes
Brian Leckner as FF J.B. Baker
Michael Gallagher as FF Lenny Rose
Alexandra Paul as FF T.K. Martin
John Bradley as FF Mike Turning
Alexandra Hedison as FF Kay Rizzo
Brian Smiar as Battalion Chief Dick Coffey

Equipment
more information is needed

Buildings
more information is needed